Description
Handcrafted Mini Virtual Pinball (Mini Flipper), dual LCD screen, Mini PC and USB joystick card included (see features) 11 programmable buttons and TILT FUNCTION with motion sensor.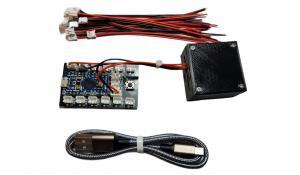 The mini Pinball is sold assembled and tested, ready to use.
Every machine is unique because it's built just for you!
Compatible with the most popular software including Visual Pinball, Future Pinball, etc..
For further information please fill in the form below.
Features:
Laser cut wooden cabinet
Anodized aluminium profiles
FLEX and PLA inserts
Cooling fan
Motion sensor (TILT)
Illuminated front buttons (COIN,START,PLUNGER)
Force Feedback (Optional)
Actual measurements: 40x30x22 cm.
Includes :
Main Screen: 13.3″ LCD
Secondary screen (score): 10″ LCD
AMD RYZEN 7 Mini PC, 16Gb RAM, 256Gb SSD
USB joystick controller with motion sensor and illuminated buttons
Rear connections (see photo):
USB socket (NEUTRIK panel connector)
Power socket with power switch
Two-axis motion sensor watch the video:

Watch the video :